Surfing is forever evolving. Now with the introduction of wave pools, the envelope has been pushed out even further. So, what does the future of surfing look like? Well for starters, everyone is going to get a lot better at surfing.
The proposed URBNSURF Melbourne facility
Chippa Wilson said it after the Stab High Contest in Texas
"Kids are going to be doing massive airs on surfboards who have never seen the beach before".
Waves at the beach will probably be referred to as "free waves" as in it doesn't cost money to surf them. But on a positive note the abundance of wave pools could potentially dilute the crowds. Plonk a perfect wave in the middle of nowhere and people will likely move their whole families. If there's one thing we do know, it's that their popularity is certain, which is why every man and their surfing ambassador is jumping onboard with their own design.
Types of Wave Pools and how they work
There are 6 major wave pool designs that have emerged since 2005. However, there is still no clear winner. We've taken the liberty to dig up the facts and statistics about each man-made wave so that we can better compare them. Within the next 5 years it's likely that everyone who reads this article will at least have had the opportunity to ride one of the below wave designs and that's exciting.
Murphys Waves
Considered the grand old daddy of wave pool technology. It uses a hydraulic wave system to produce waves. Murphys Waves are generally found in popular water parks across the world which includes Hot Park, Rio Quente, Cartoon Network Amazone Waterpark, Siam Park, and Wild Wadi to name a few.
Their Olympic Surf System uses a 'reef' to produce barreling break right or left waves up to four meters high. Its wave generator can be used for different applications making them perfect for waterparks. Anywhere from action rivers, surf pools, surf rides, wave pools, even for use in survival wave pools.
Kelly Slater Waves
One of the most popular wave pool technologies being used today, Kelly's wave has been adapted by the World Surf League and plans to use them in future wave pools across the world. Kelly Slater Waves uses a hydrofoil which is run the length of the pool on a track at speeds of 19 mph. The sections of the waves are influenced by the different bottom contours much like those found in the ocean.
Kelly Slater Waves produces 45-second rides and the best tubes, perfect for competition surfing. It takes around 3 minutes for the water to settle and only one wave can be generated every couple of minutes.
Wavegarden Lagoon
Unlike Murphys Waves, this technology was solely designed for surfing. It features a pier located in the middle of the wave pool. A submerged hydrodynamic foil which moves at 4.5 m and 7.5 m per second moves along a track at the central body of water which in turn creates a large wake that breaks along the right and left side of the pier. One downside is that the wave pool is only limited to one wave every 90 seconds.
Wavegarden Cove
After initial success with its Wavegarden Lagoon, the much improved Wavegarden Cove was designed to generate varying waves at a push of a button. It uses proprietary software to control its wave generating system to instantly create waves of varying size, shape, and frequency for surfers of all levels. This technology also allows it to produce more waves per hour, a huge advantage over its competitors.
Surf Lakes
Surf Lakes technology uses compressed air generated by a central hub plunger mechanism. The plunger is released into the hub creating a wave that is sent in all directions. This is similar to creating ripples in a lake albeit, much, much bigger.
The number of waves generated per hour is determined by the number of breaks. A wave set of 6 waves with 2 breaks, for example, creates 12 waves per set and when you run 4 wave sets an hour that's a total of 48 rides per hour.
American Wave Machines
American Wave Machine's PerfectSwell technology produces three wave sets every minute. Waves are generated using a series of air pistons located in a central wall which ten pushes out air in a predetermined sequence to displace the water hence, creating a wave. It is highly customizable and can be used in a variety of settings, from enclosed to open areas.
Popular Wave Pools of the world
WaveGarden Cove. Basque Country, Spain
Wavegarden was the first wave pool company to market. What started in Northern Spain has now spread to several global locations including Australia, South Korea, Switzerland, Brazil and the UK. Wavegarden has been experimenting with man-made waves since 2005. Due to this, their design history varies with the final, most advanced version being dubbed The Cove Technology.
The Cove uses call modules to pump energy into the wave as it travels down The Cove. By doing this they are replicating a ground swell type wave with little energy loss and plenty of power for the surfer to play with. The Melbourne location is called URBNSURF Melbourne.
Wavegarden Cove Stats
Waves per hour - 1000
Types of waves - 4
Largest wave - Approx 6ft
Max Surfers at once - Depending on wave type
Surfing Ambassador - Multiple
Wave Engineer - Team of 30 existing Engineers
WSL Wave Ranch. Lemoore - California, USA
Formerly owned by the Kelly Slater Wave Company the long barreling wave is powered by a train like cart that pulls a large hydrofoil at speeds of 30 km/hr down a 680m long pool. Alike most wave pools how the wave forms relies on the level and gradient of the ground below.
WSL Wave Ranch Stats
Waves per hour - 20
Types of waves - 1
Largest wave - Approx 6ft
Max Surfers at once - 2
Surfing Ambassador - Kelly Slater
Wave Engineer - Adam Fincham
Texas Wave Pool, (BSR Cable Park) Waco - Texas, USA
The Waco Wave Pool is a true freak of nature because everything is so well hidden. Created by AWM (American Wave Machines) and labeled PerfectSwell Technology. This tech can generate infinite types of waves by firing off its range of 10ft wide air chambers in unique sequences. For this type of wave pool the possibilities are endless which is why it has become so popular in the world of aerial surfing.
Texas Wave Pool Stats
Waves per hour - 150
Types of waves - Infinite
Largest wave - Approx 6ft
Max Surfers at once - 9
Surfing Ambassador - Jamie O'brien
Wave Engineer - Cheyne Magnussen
Surf Lakes, Yeppoon QLD, Australia
Surf Lakes is totally different again, introducing a "5 Wave technology" that is able to create 5 different levels of waves from beginner to advanced simultaneously around a circular lake. The final version or full capacity of this design is projected to cater for up to 240 people in one session, which from a commercial standpoint is hard to beat.
Surf Lakes Stats
Waves per hour - 2,400 (Full Capacity Version)
Types of waves - 5
Largest wave - Approx 8ft (Full Capacity Version)
Max Surfers at once - 240 (Full Capacity Version)
Surfing Ambassador - Mark Occhilupo
Wave Engineer - Chris Hawley
The Wave – Bristol, UK
The Wave is a wave pool destination with a 200m surfing lake at its center. It generates 1,00 waves an hour and is designed for surfers of all levels. Waves are generated by a Wavegarden Cove wave generator located at the central pier of the lake. Surfing lessons are available for all family members. Costs for surfing lessons include surfboard and wetsuit hire.
The Wave Stats
Waves per hour – 1000
Types of waves – gentle beginner waves to high performance barreling waves
Largest wave - Approx 6.8 ft
Max Surfers at once - 62
Surfing Ambassador – Jenny Jones
Wave Engineer – Hydrock in collaboration with Spanish technology provider Wavegarden
The Wave, Bristol opened in November 19 with an additional wave pool site, The Wave, London in scheduled for 2023.
Urbnsurf – Melbourne, Australia
Urbnsurf features Wavegarden Technology which allows them to create waves of varying weight, shape that allows them to cater to surfers of all levels. It can generate up to 1000 waves per hour, but a typical one-hour session consists of 10-12 waves on average. There is no definite lineup of wave types in each set, which makes surfing here interesting.
Urbnsurf Stats
Waves per hour – 900 to 1000 waves per hour
Types of waves – gentle beginner waves to high performance barrel waves
Largest wave – 7 ft
Max Surfers at once – The Point (36 surfers), The Bays (48 surfers), The Lagoon (84 surfers)
Wave Engineer – Wavegarden Cove
Surf Snowdonia – Vale of Conway UK
Surf Snowdonia has the distinction of being the first commercial wave pool using Wavegarden Technology. Waves are generated by dragging a foil through the water, using Wavegarden technology, it is capable of generating advanced, intermediate, and whitewater waves. It is located in 300-meter lagoon divided by a pier which contains the wave generator.
Surf Snowdonia Stats
Waves per hour – 45
Types of waves – waist height waves that tapers at the sides and ends of the pool
Largest wave – 6 ft
Max Surfers at once – maximum of 8 surfers on each side, 16 in total
Surfing Ambassador – Jo Dennison
Wave Engineer – Wavegarden Lagoon
Siam Wavepark – Tenerife, Canary Islands
The Siam Wavepark holds the distinction of having the biggest waves in the world. Located in Tenerife, Canary Islands, the park was opened in 2008 and features several water attractions.
Siam Wavepark Stats
Waves per hour – 60 to 90
Types of waves – the park produces the biggest waves in the world measuring up to 12 ft high
Largest wave – 12 ft
Wave Engineer – Murphy's Waves
What Wave Pool design is the best?
That depends on what type of waves you like to surf. The flawless tubes of WSL Wave Ranch look pretty enticing as does going for broke on a Waco ramp. Let's break it down via the stats.
Largest Wave
Surf Lakes have reportedly produced an 8ft slab named "The Island" potentially after the infamous reef slab at Shark Island on the NSW coast of Australia.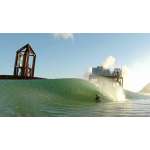 Bodyboarder Ben Player under the lip of the infamous Island Slab prototype.
Best for Airs.
The Texas Wave Pool, given its infinite ability to create perfect ramp sections. Proven by the best free surfers in the world during the STAB High contests.
Mason Ho with a huge christ air during the 2018 STAB High Contest in Texas.
Longest Tube.
The hollow, near 1-minute long tube of the WSL Wave Ranch is so far the winner. But the proposed Wavegarden Coves are going to be close rivals.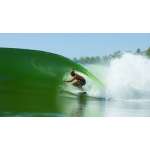 Kelly Slater stalling in his magical barrel factory.
Most Waves Per Hour & Surfers At Once.
Surf Lakes if it can deliver their full-scale version promoting a massive 2,400 Waves per hour for 240 surfers in the man-made lake.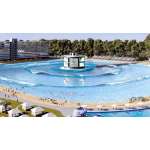 3D render of the proposed full capacity Surf Lakes facility.
Best Wave Pool Tech
It's pretty hard to lock it down to one and again it's going to come down to your preference in wave type. The Wavegarden Cove technology is essentially a combination of the WSL Wave Ranch and the Texas Wave Pools - Perfect Swell Technology. Using modules comparable to the air chambers of Waco, to push a wave out that's more similar in style to the one at Lemoore. But what makes this maybe the best tech overall is the aesthetics of the pool itself with no giant train or plunger visible, just a pool filled with crystal clear water.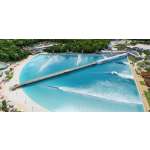 3D render of the proposed SURFLAND facility in Garopaba, Brazil, powered by Wavegarden.
The Difference Between a Wave Pool and a Surf Pool
One of the major differences between surf pools and wave pools is their size. Surf pools are generally smaller compared to their wave pool counterparts mainly because of the larger wave generators found in wave pools.
Both technologies are primarily designed to let people enjoy surfing in a controlled environment. However, another big difference is the types of waves they generate. With bigger, more powerful wave generators, wave pools are capable of generating different types of waves. In fact, some wave pools are capable of creating 8 ft waves.
While everything seems to be stacking up against surf pools, one major advantage is that surf pools create standing waves. No more waiting time between waves. Perfect for beginners and even advanced surfers trying out new tricks.